Root Canal Therapy – Cary, NC
A Solution for
Your Dental Pain
Despite what you might have heard, root canal therapy isn't especially painful compared to any other treatment Dr. Singh might recommend. In fact, root canal therapy in Cary, NC is actually used to STOP your discomfort! By locating and removing the underlying source of an infection in your tooth, a root canal can stop your toothache and prevent the need for a tooth extraction later. If your tooth hurts and never seems to improve, get in touch with Cary Dental Rejuvenation.
Why Choose Cary Dental Rejuvenation for Root Canal Therapy?
Decades of
Experience and
Expertise
Spa-Like Amenities and a Comfortable Dental Environment
A Dentist
and Team
That Care
What is a Root Canal?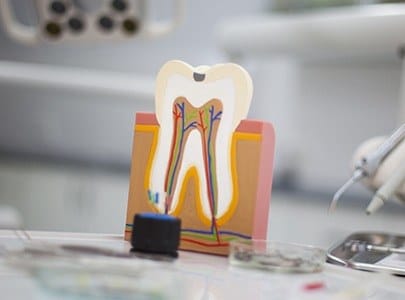 The nerve of your tooth is housed in the innermost layer called the pulp. If the nerve is infected or dies as a result of decay or trauma, it needs to be removed. During the root canal process, we'll open the tooth so that we can take out the pulp along with any other infected tissue; after that, we'll thoroughly clean, fill, and reseal the tooth. You'll most likely need to get a crown afterward in order to protect the tooth.