Dental Crowns – Cary, NC
Restore Your Smile's Health and Appearance
Dr. Singh and our team offer numerous restorative services to help patients enjoy sound oral health and a confident smile. One of those services is dental crowns. This remarkable treatment may be able to renew the function and form of a damaged or decayed tooth, saving it from extraction and allowing it to endure for a lifetime. On this page, you will learn more about dental crowns and how one may be able to benefit you.
Why Choose Cary Dental Rejuvenation for Dental Crowns?
Same-Day Restorations Available
Sturdy, Natural-Looking Results
Personalized Treatment
What Is a Dental Crown?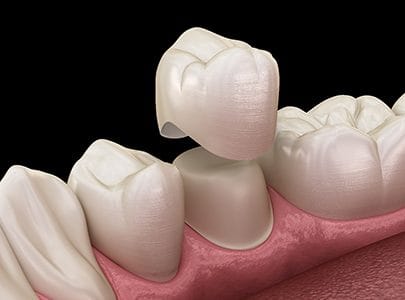 A dental crown is a custom-designed "cap" that fits over the entire visible portion of a tooth (everything above the gumline). Crowns can be made of various materials, including gold, silver, other metals, and porcelain fused to metal. However, many dentists favor all-porcelain crowns because of their natural appearance.
What Issues Can a Dental Crown Fix?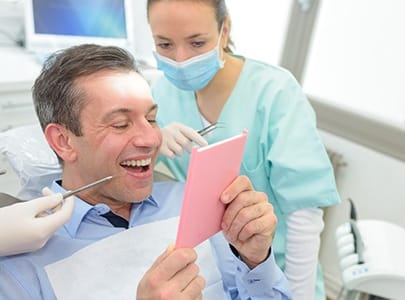 Crowns can serve numerous purposes. Some of the things they can accomplish include:
Protecting a vulnerable tooth. A tooth that has undergone root canal therapy may need a crown to strengthen it.
Repairing a damaged tooth. Some cases of decay or trauma are severe enough that a regular filling or other, more conservative restorative treatment proves to be inadequate. A crown may be used instead.
Replacing teeth. Crowns are often used as part of a dental bridge. The crowns get placed on the teeth next to the empty space, and they support an artificial tooth between them. A crown may also go on top of a dental implant.
Improving the appearance of teeth. Veneers and other cosmetic treatments are often able to transform teeth. In some cases, though, a crown is the best way to restore the beauty of a misshapen or otherwise unsightly tooth.
How Are Dental Crowns Placed?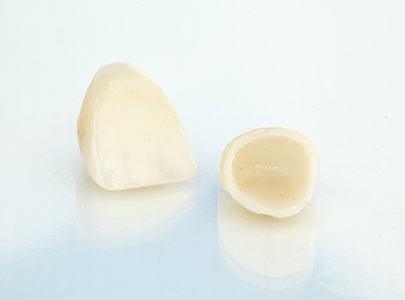 The traditional process for placing a dental crown requires at least two appointments. At the first appointment, the tooth is prepared when Dr. Singh removes some of its enamel. This is required to ensure that the crown fits well. Next, our team takes some impressions to serve as the basis for designing the tooth. Then, a laboratory fabricates the crown, which is then attached to the tooth at a second appointment.
While the traditional crown process is effective, many patients do not want to wait for a second appointment. That is why we have advanced technology that enables us to offer same-day crowns. We can fabricate porcelain restorations right here in our office.
Caring for a Dental Crown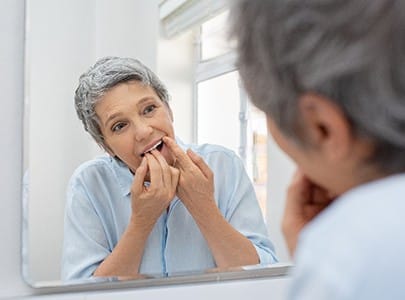 A dental crown has the potential to last for a decade or longer. To help it stand the test of time, you should stick to a diligent oral hygiene routine that includes twice-daily brushing and once-daily flossing. Routine dental visits (once every six months or so) are also important. If you ever have any questions about how to care for your crown, you are more than welcome to call our office.
Do you believe you could benefit from a dental crown? Request a restorative consultation with your dentist in Cary today.
Understanding the Cost of Dental Crowns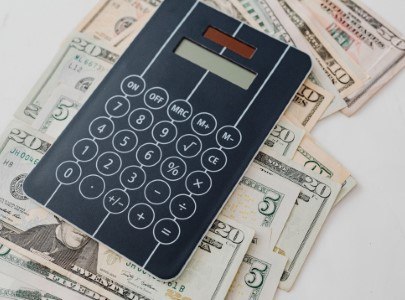 If you need a dental crown, the last thing you should be worried about is how you're going to pay for it. Many factors affect the cost of dental crowns in Cary, but Dr. Bikram Singh strives to keep high-quality restorations within everyone's budget. He won't compromise quality or aesthetics when creating your personalized treatment plan. You'll get the crown you need without breaking the bank.
Factors That Affect the Cost of Dental Crowns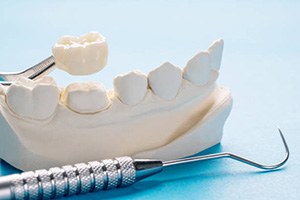 Every mouth is as unique as fingerprints, so there's no one-size-fits-all dental crown. Many things influence the cost of your treatment, like:
Consultation: You'll require a consultation with your dentist to examine your mouth. You may also need diagnostic imaging, like X-rays.
Preparatory Procedures: Dental crowns can be used along with many other procedures, like root canal therapy.
Materials: Discounted materials may be cheaper, but they may not last as long as those that cost more. Our office will help you choose the best materials to ensure your restoration looks natural and can last for many years with the correct care, like brushing and flossing.
Location: The tooth being treated can also affect the amount you'll pay. Molars are larger and more complex, so they can have a higher fee than crowns used for front teeth.
After examining your mouth and learning more about your situation, we will provide you with an individualized estimate. A member of our office will explain the fees, so you'll know exactly what you'll need to pay before committing to anything.
Does Dental Insurance Cover Dental Crowns?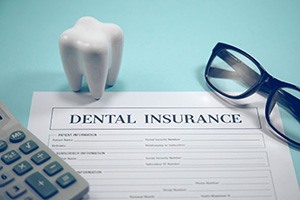 If a dental crown is needed for restorative reasons, like fixing a chipped tooth, most insurance plans will cover some of the cost. Your benefits can include your consultation and diagnostic imaging. Depending on your treatment plan, your insurance can cover 50% to 80% of the expense of your restoration and any additional restorative procedures after meeting your annual deductible. You can use your yearly allowance to lower your out-of-pocket responsibility. We will work on your behalf with your dental insurance to maximize any coverage to keep your crown affordable. We'll explain how your coverage is being used to pay for your care.
Options for Making Dental Crowns Affordable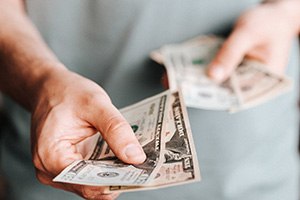 Besides using your dental insurance, our office has many financial solutions to keep dentistry affordable, including:
Traditional Payments: We accept all forms of traditional payment methods, including cash, personal checks, and credit cards.
Dental Financing: You can pay any out-of-pocket expenses using monthly installments through a third-party financing company, like CareCredit. You can benefit from little or no interest in financing based on your credit approval.
Promotions: Our office regularly offers various specials for select services. We will discuss any ongoing deals during your consultation.
If you have any questions about your dental insurance and payment options, or you need a consultation, contact our office today at (919) 230-8590.
Dental Crown FAQs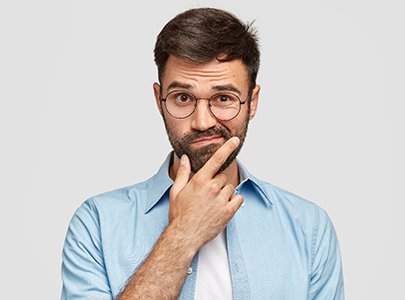 If you have a damaged or decayed tooth, Dr. Singh may have suggested you get a dental crown in Cary. The modern restoration offers both restorative and cosmetic benefits. Not only will it help restore your oral health, but it'll improve the function and appearance of your smile. While you may already know about the advantages of a dental crown, it's completely normal to have a few concerns before committing to the procedure. Below, we're answering some frequently asked questions to help you better understand this top-tier service.
Are Dental Crowns Permanent?
Not necessarily, but they're still a long-term restorative solution. Most patients can expect their crowned tooth to last anywhere from five to 15 years depending on how well it's taken care of. It's important to remember that the process of getting a dental crown in Cary is irreversible.
During your preparation appointment, Dr. Singh will remove a thin layer of enamel to ensure the restoration fits properly. Once your natural tooth is altered, it will never go back to how it was. That means your tooth will always need a crown for protection moving forward. You can help your crowned tooth last years to come by practicing good oral hygiene and visiting your dentist regularly.
Do Dental Crowns Get Cavities?
It's impossible for a dental crown itself to develop cavities. However, the underlying tooth is still at risk of decay. Believe it or not, a crowned tooth has about the same risk of decay as an uncrowned tooth! The good news is that taking proper care of your smile will help keep bacteria and plaque from accumulating around the gumline where the tooth meets the crown. Some excellent ways to maintain a healthy smile include brushing twice a day, flossing daily, and visiting your dentist every six months for a checkup and cleaning.
What Happens If You Wait Too Long to Get a Dental Crown?
Dentists will only recommend a dental crown to patients who absolutely need one. While you may be tempted to put off the procedure, it's best to schedule it as soon as possible. Otherwise, your tooth will be exposed to chewing forces and bacteria, ultimately causing your damage or decay to worsen. It may eventually become so compromised that you'll need a root canal or an extraction. All that said, you should try and get a dental crown immediately after Dr. Singh recommends it to preserve as much of your natural tooth as possible.
Is It a Dental Emergency If Your Crown Falls Off?
It's not typically considered a dental emergency, but you should still make an appointment with Dr. Singh within a few days. You may need to be seen sooner if the underlying tooth has jagged edges that could harm the soft tissues in your mouth. Until your appointment, you can protect your mouth by applying orthodontic wax or sugar-free gum to the sharp edges of your tooth. Make sure you bring the crown with you to our dental office! Depending on its condition, we may bond it to your tooth or replace it altogether.