Dental Crowns – Cary, NC
Restore Your Smile's Health and Appearance
Dr. Singh and our team offer numerous restorative services to help patients enjoy sound oral health and a confident smile. One of those services is dental crowns. This remarkable treatment may be able to renew the function and form of a damaged or decayed tooth, saving it from extraction and allowing it to endure for a lifetime. On this page, you will learn more about dental crowns and how one may be able to benefit you.
Why Choose Cary Dental Rejuvenation for Dental Crowns?
Same-Day Restorations Available
Sturdy, Natural-Looking Results
Personalized Treatment
What Is a Dental Crown?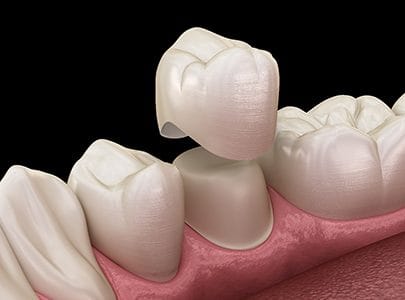 A dental crown is a custom-designed "cap" that fits over the entire visible portion of a tooth (everything above the gumline). Crowns can be made of various materials, including gold, silver, other metals, and porcelain fused to metal. However, many dentists favor all-porcelain crowns because of their natural appearance.
What Issues Can a Dental Crown Fix?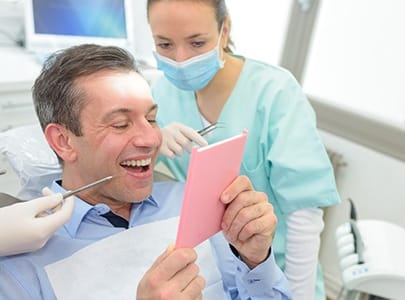 Crowns can serve numerous purposes. Some of the things they can accomplish include:
Protecting a vulnerable tooth. A tooth that has undergone root canal therapy may need a crown to strengthen it.
Repairing a damaged tooth. Some cases of decay or trauma are severe enough that a regular filling or other, more conservative restorative treatment proves to be inadequate. A crown may be used instead.
Replacing teeth. Crowns are often used as part of a dental bridge. The crowns get placed on the teeth next to the empty space, and they support an artificial tooth between them. A crown may also go on top of a dental implant.
Improving the appearance of teeth. Veneers and other cosmetic treatments are often able to transform teeth. In some cases, though, a crown is the best way to restore the beauty of a misshapen or otherwise unsightly tooth.
How Are Dental Crowns Placed?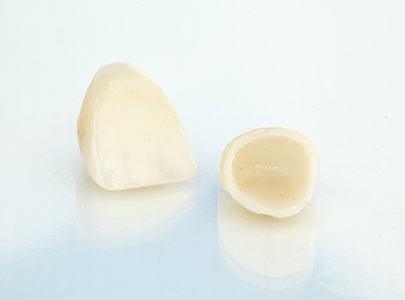 The traditional process for placing a dental crown requires at least two appointments. At the first appointment, the tooth is prepared when Dr. Singh removes some of its enamel. This is required to ensure that the crown fits well. Next, our team takes some impressions to serve as the basis for designing the tooth. Then, a laboratory fabricates the crown, which is then attached to the tooth at a second appointment.
While the traditional crown process is effective, many patients do not want to wait for a second appointment. That is why we have advanced technology that enables us to offer same-day crowns. We can fabricate porcelain restorations right here in our office.
Caring for a Dental Crown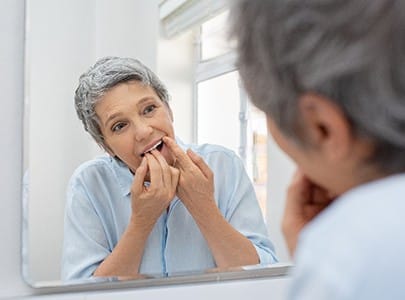 A dental crown has the potential to last for a decade or longer. To help it stand the test of time, you should stick to a diligent oral hygiene routine that includes twice-daily brushing and once-daily flossing. Routine dental visits (once every six months or so) are also important. If you ever have any questions about how to care for your crown, you are more than welcome to call our office.
Do you believe you could benefit from a dental crown? Request a restorative consultation with your dentist in Cary today.