Dental Bridges – Cary, NC
Bridge the Gap,
Restore Your Smile
Currently, it's estimated that more than 140 million Americans are struggling with tooth loss. If you're one of them, then you know all too well that even one missing tooth can make it difficult to eat, smile, and even speak. Luckily, there is a solution that is lifelike, durable, and effective: dental bridges in Cary. This tooth-replacement solution literally bridges the gap, restoring your smile in the process. If you want to learn more, read on or get in touch with our team!
Why Choose Cary Dental Rejuvenation for Dental Bridges?
Trained, Caring, and Beloved Dentist
Custom and Durable Tooth-Replacement Solution
Your Comfort Is Our Priority
What Is a Dental Bridge?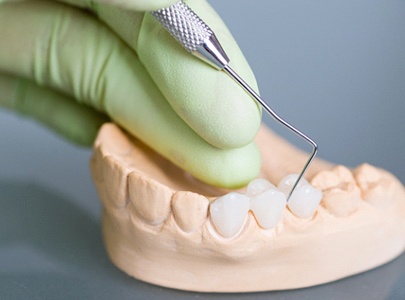 As the name suggests, a dental bridge is designed to literally bridge the gap that arose from tooth loss. While it is often used to replace one missing tooth, this tooth-replacement option can also replace several missing teeth in a single row. To do this, dental crowns are attached to the teeth adjacent to the gap. This gives the prosthetic tooth or teeth a solid anchor, effectively restoring your smile and bite.
The Types of Dental Bridges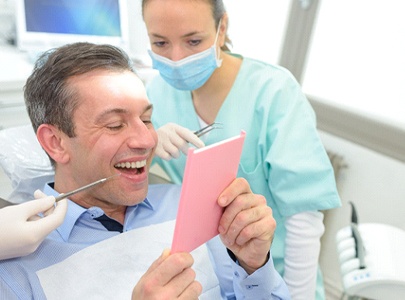 "Dental bridges" is an all-encompassing term that many patients use. There are, however, two different types. Depending on your dental needs, our Cary dentist, Dr. Singh, will recommend one of the following:
Traditional Dental Bridge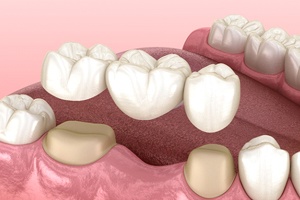 One of the options to replace one or more single teeth in a row is a traditional dental bridge. This is when the prosthetic tooth or teeth are anchored in place with dental crowns. Although this is a more straightforward approach, it does require your teeth surrounding the gap to be altered.
Implant Bridge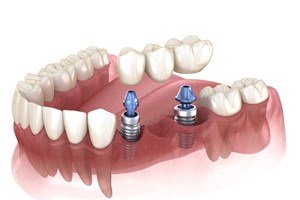 An implant bridge, on the other hand, secures the bridge with dental implants, not crowns. In this case, implants are inserted into the jawbone on either side of the gap, providing unmatched stability and comfort. Plus, no alterations to your existing teeth are required!
The Benefits of Getting a Dental Bridge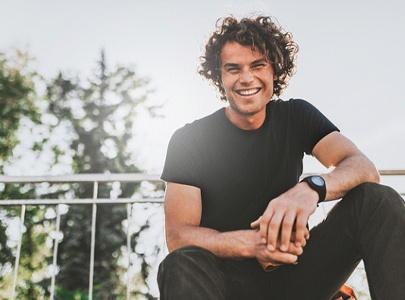 Still unsure if a dental bridge is right for you? Here are some noteworthy benefits to consider:
Dental bridges maintain the alignment of your teeth.
Dental bridges improve your oral health.
Dental bridges are easy to maintain.
Dental bridges can last for 15+ years.
Dental bridges are custom-made, ensuring they look and feel great.
If you want to learn more about dental bridges in Cary, don't hesitate to reach out to our team! We'd love to help you find the tooth-replacement solution that restores your smile, your bite, and, of course, your overall quality of life.
Dental Bridges FAQs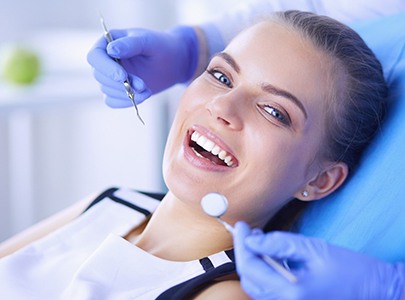 Not only can tooth loss affect the way your smile looks, but it can also impact your overall quality of life. With dental bridges, you can effectively replace one or more consecutive missing teeth so you can enjoy a full smile again. However, you might be wondering what to expect from the treatment before committing to it. To help make your decision easier, our team at Cary Dental Rejuvenation has collected some of the most commonly asked questions about dental bridges in Cary. Feel free to give us a call today if you don't see the information you're looking for!
Is Getting a Dental Bridge Painful?
Before preparing your teeth to support your bridge, we'll make sure to numb your mouth with a local anesthetic. This will guarantee that you remain comfortable and safe throughout your procedure. Although you shouldn't feel any discomfort during the preparations and placement of your dental bridge, you may experience minor sensitivity in the underlying teeth for the next few days. You can easily manage this by taking over-the-counter pain relievers or consulting with Dr. Singh for ways to minimize the sensations.
Do Dental Bridges Look Natural?
Many dental bridges are constructed out of durable and natural-looking materials like ceramic or porcelain. Not only do these imitate your normal tooth enamel, but we'll match their color and shape to fit seamlessly with the rest of your smile. They'll also be made to function like your natural pearly whites, as you won't need to worry about your prosthetics falling out like other treatment options, such as dentures.
Can You Take a Dental Bridge Out?
Your dental bridge will be designed to remain in your mouth for many years after we place them. This means you shouldn't be able to remove them whenever you want, as this will only be performed by your dentist when you need them replaced. A dental bridge is not to be confused with partial dentures, even if they are both meant to replace multiple missing teeth. Though partials can be removed by a patient at any moment, a bridge cannot.
How Long Should a Dental Bridge Last?
While the exact amount of time can vary from patient to patient, you can typically expect your dental bridge to last around 10 or more years. This can depend on the type of material it's made from as well as if you practice proper care. Brushing and flossing your teeth every day is essential for keeping them clean and free of plaque and bacteria. It's also important to maintain a balanced diet and avoid poor oral habits—like smoking, biting fingernails, teeth grinding, or using your teeth as tools. The timeframe can be much longer if you opt for implant bridges, as these will be directly anchored to your jawbone via small titanium posts.