Dental Implants - Cary, NC
Precisely Placing Stable, Natural-Looking Teeth
Every year, about 500,000 people receive dental implants to replace their missing teeth. For many, dental implants are the restoration of choice because, since they replace the roots of the teeth, they offer numerous benefits that traditional bridges and dentures simply can't. If you have just lost a tooth, expect to lose teeth soon, or would like to upgrade your traditional dentures to implant dentures, schedule a consultation with Dr. Singh at Cary Dental Rejuvenation today to discuss options for tooth replacement with dental implants in Cary, NC.
Why Choose Cary Dental Rejuvenation for Dental Implants?
Precision Placement Thanks to Computer Guidance
Artistically Designed Replacement Teeth
Entire Procedure Done at One Location
What are Dental Implants?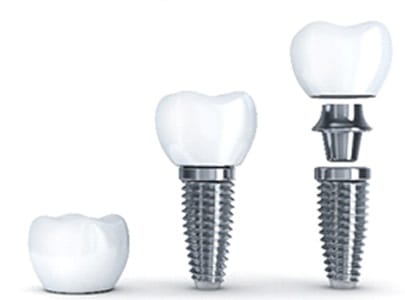 Implants are normally made out of titanium (although zirconia can be used instead for patients that have metal allergies) and are surgically placed in the jaw. Once there, they bond with the surrounding bone tissue in a process called osseointegration. This way, they can serve as support for artificial teeth. Dental implants are not a new kind of treatment; they've been used for over 30 years, and most dentists will highly recommend them in cases of tooth loss.
The 4 Step Dental Implant Process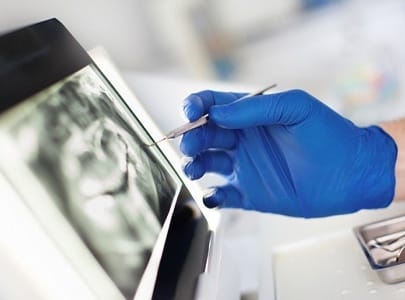 As the only tooth replacement option to replace the roots of missing teeth as well as the crowns, dental implants require a more involved process than that of dentures or dental bridges. Overall, the process of getting dental implants can take several months to a year, which is a short time to wait for a reliable tooth replacement that can potentially last a lifetime! At your consultation, we can provide a more accurate and personalized timeline so you have an idea of how long it will take to fully rebuild your smile. In the meantime, read on to learn more about the four main steps in the process of getting dental implants in Cary.
Initial Dental Implant Consultation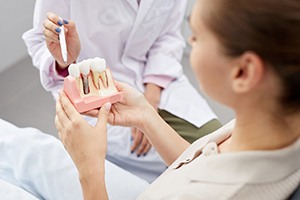 First and foremost, we need to confirm that dental implants are a good choice for you. Thankfully, practically any healthy adult with one or more missing teeth can qualify for dental implants. However, issues like tooth decay, gum disease, and inadequate jawbone density can threaten the success of your implants. If any of these problems are detected, we'll first work with you to address them to give your new smile a strong, healthy foundation. Once you're ready to replace your missing teeth, we'll go over all the details of your plan so you'll know exactly what to expect, including the length and cost of your treatment.
Dental Implant Surgery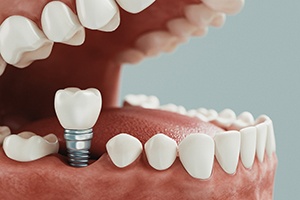 Following the completion of your initial consultation, we'll schedule you for surgery at a later date. Don't want to drive across town to have your implant surgery performed by a specialist you barely know? At Cary Dental Rejuvenation, there's no need; Dr. Singh can handle every step of the implant procedure, from surgery to restoration. You can continue to enjoy our team's personalized care as well as our spa-like amenities throughout the process of getting your new teeth. And of course, the whole process is in the hands of a dentist you already know and trust!
First, Dr. Singh will make one small incision in your gums for each dental implant you are receiving. This allows him to access the jawbone, where he will carefully insert the dental implant into specific, pre-planned areas. Once the dental implants are in place, he'll close up the gums and place a protective cap over the implants before sending you home to heal.
Dental Implant Osseointegration & Abutment Placement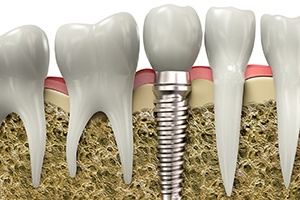 Your mouth will need to undergo a unique process called osseointegration next before you can move on to the final step of your dental implant treatment. This is where the dental implant(s) will fuse with the surrounding bone tissue to form a solid, lifelike foundation. While every patient is different, this process typically takes between four and six months.
Once you've healed enough, you'll return to our office to have the implants exposed once again and the abutments attached to them. This small connector piece is what will eventually hold your new teeth in place. We'll take impressions of the area and begin working on your custom-made restoration while your gums heal over the next few weeks.
Delivery of Dental Implant Restorations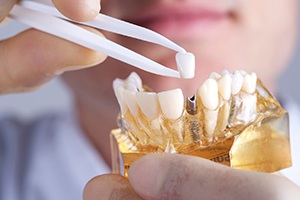 Before you know it, you'll be returning to our office for the last stage of the dental implant process. During this appointment, we'll anchor your new crown, bridge, partial, or full denture onto your dental implants. We'll take the time to make sure that your bite is comfortable, that you're pleased with your results, and to answer any questions you may have, and them you'll be ready to walk out of our office with a brand-new complete and confident smile!
Benefits of Dental Implants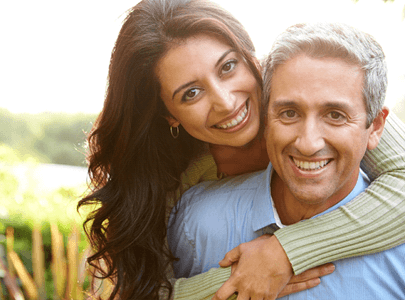 Dental implants are not your only option for tooth replacement, but if they're a viable option in your case, they are highly recommended. Over 3 million people in the United States have dental implants, and another 500,000 are placed each year; this growing popularity is thanks to the many benefits that come with having prosthetic teeth that rest on dental implant posts. Below, you can learn more about the outstanding advantages of implants.
Day-to-Day Benefits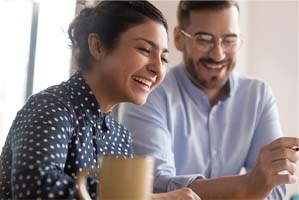 Traditional dentures and bridges have their limitations, but with dental implants, you'll be able to get the most out of life every day.
Full Diet: Dental implants replace the entire structure of a missing tooth, giving them more strength and stability than traditional dental prosthetics. This means that they can be used to enjoy any kind of food, so you won't have to limit your diet.
Confidence: Your implants will be placed and restored in a way that complements the appearance of the rest of your face. They'll look and feel like real teeth, so you can be confident about showing them off.
Clear Speech: Normal dentures can sometimes slip and cause you to mumble or slur your words. Dental implants, on the other hand, will keep your teeth secure at all times, so you can easily talk with friends or co-workers.
Easy Oral Hygiene: With traditional dentures, you need to worry about cleaning every surface of the prosthetic with specialized products while also regularly brushing the gums. Dental implants, on the other hand, can be maintained very easily. You just need to brush and floss as you normally would.
Health Benefits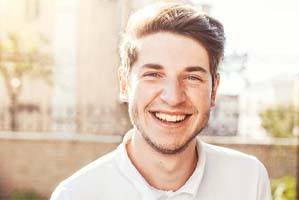 Dental implants don't just improve the quality of your everyday life. They also benefit your health in various ways.
Jawbone Preservation: Dental implants support the jaw from the inside, actively working to stop bone loss. It's natural for the bone in the jaw to start to resorb after tooth loss, but dental implants can stop this process and help the jaw maintain its strength and shape.
Protection for Natural Teeth: When used to fill in the gaps in your smile, dental implants serve as placeholders that stop your natural teeth from drifting out of place.
Systemic Health Benefits: Some correlation has been shown between tooth loss and an increased risk for certain systemic disease. Since dental implants function like natural teeth, many researchers believe that they could help lower such risks.
Long-Term Benefits: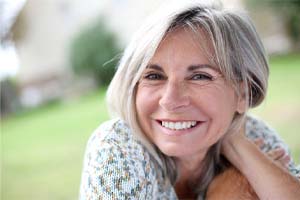 When you get dental implants, you'll see their true worth compared to other tooth replacements more clearly as the years go by.
Longevity: Dental implants are known to have lifespans of over 35 years, with many patients keeping them for a lifetime.
High Success Rate: The success rate of dental implants is as high as 95%, meaning there's little risk of needing to have them replaced or removed.
Cost-Effective: Traditional dentures and bridges periodically need to be replaced, and you need to pay for each new prosthetic. Since dental implants rarely if ever need to be replaced, they can end up saving you money as the years go by.
Who Dental Implants Can Help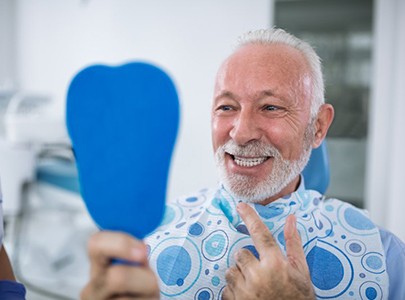 No matter how many teeth you're missing, dental implants in Cary may be able to restore your smile to its former glory. Not only is this solution versatile enough to replace any number of lost teeth, but the vast majority of healthy adults qualify for dental implants. Of course, you'll still need to attend a consultation with Dr. Singh and meet a few key qualifications. Here's what you need to know about whether you're eligible for dental implants.
Who Is a Good Candidate for Dental Implants?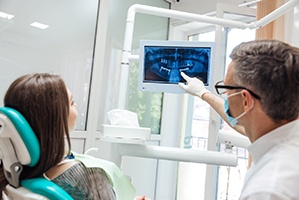 To verify that you're a good candidate for dental implants, Dr. Singh will need to examine your mouth and review your medical and oral history. In general, you'll need to:
Have any untreated oral health problems, such as gum disease, addressed.
Be free of systemic health issues that could complicate oral surgery.
Have enough strong jawbone density to support the implant posts.
If you don't meet all of these standards at first, don't worry – there are ways that Dr. Singh can help. For example, jawbone loss is fairly common if a patient has been without teeth for some time. In that case, you can often qualify for dental implants as long as you're able and willing to complete a bone grafting procedure.
Once your dental implant dentist in Cary has given you the all-clear, we can move forward with the treatment process. Depending on how many teeth you're missing, we may choose one of the following options:
Missing One Tooth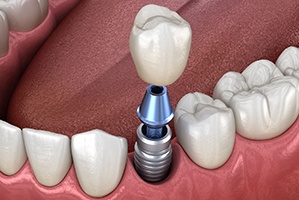 If you've only lost one tooth, we can vertically position a single dental implant in the space where the tooth's roots once were. After it has integrated with your jaw, we can secure a custom dental crown onto it, completing your smile with a solution that looks and feels natural. Unlike a traditional dental bridge, a dental implant doesn't require any of your remaining teeth to be modified for support.
Missing Multiple Teeth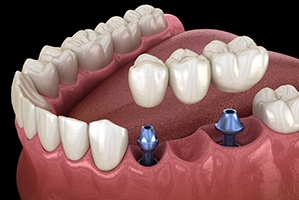 Two missing teeth in a row can sometimes be replaced with a single implant and a pair of connected crowns. If three or more are missing, however, you can get a dental bridge (a restoration made of two crowns that hold a false tooth between them) and a pair of implants. This lets you fill in the gaps in your grin without needing to have any previously existing tooth structure removed.
If you've lost teeth at various locations along an arch, we can often place a small number of implants throughout the mouth in order to secure a reliable partial denture into place.
Missing All Teeth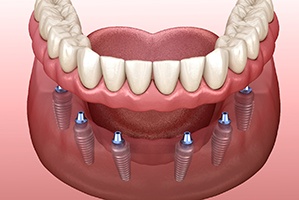 For patients with full-arch tooth loss, we can secure a full denture onto four to eight dental implants. With an implant denture, you won't have to worry about dietary restrictions, and your teeth will stay firmly in place whenever you eat or laugh. Each implant will be placed in a strategic area of your jawbone to give your dentures the best support possible.
The All-on-4 procedure is a unique approach to implant dentures that will let you enjoy new teeth sooner rather than later. By placing four implants in a way that takes advantage of the densest areas of your jaw, they'll be able to bear the load of temporary dentures right away. Due to the positioning of these implants, you could avoid the need for bone grafting procedures beforehand.
Understanding the Cost of Dental Implants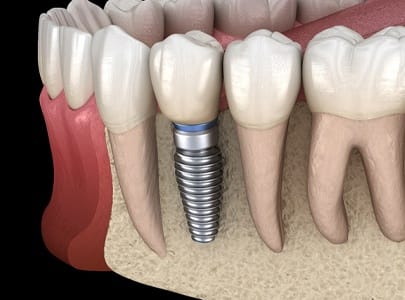 One of your first concerns when getting dental implants will most likely be the overall price of the procedure. Every patient will have a different price to consider based on numerous factors. Your initial consultation will include a reliable estimate for the ultimate price of the procedure. Don't forget that implants are a long-term investment in a better smile that will let you continue to enjoy a high quality of life even after suffering tooth loss. Most patients would agree that this treatment is more than worth the price!
Preliminary Treatments & Dental Implant Surgery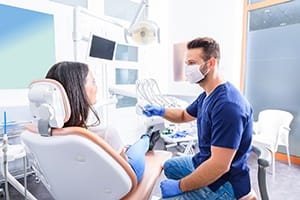 It's quite common for patients to need one or more preliminary treatments, such as tooth extractions or gum disease therapy, before they can receive dental implants in Cary. Each of these services incurs its own cost. The dental implant placement surgery has a separate fee, which depends on how many implants are being placed. Since Dr. Singh handles the surgery in-house, we will be able to provide you with an accurate estimate for this part of your dental implant journey. There won't be any need to learn the pricing policies of an outside practice.
The Parts of Your Dental Implant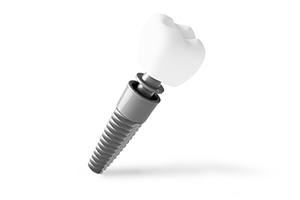 There are quite a few different types of dental implant treatment. Some require the use of just one or two implants, while others necessitate the use of four or more implants. Also, keep in mind that there are various implant manufacturers that create a variety of types of dental implants. The specific products and technology used during your treatment will contribute to the overall price of your new teeth.
Final Dental Implant Restoration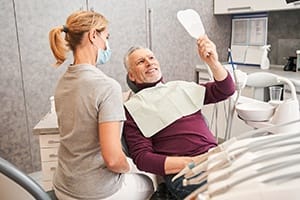 Just like there are different types of implants, there are different types of implant restorations. Logically, a single implant crown that replaces just one tooth costs less than a multi-unit bridge (the average price of an implant and crown is $3,000 - $5,000). If you require full-arch replacement, you might end up paying $35,000 - $65,000 for start-to-finish dental implant treatment. While those numbers might seem steep, keep in mind that the longevity of dental implants makes them an excellent value.
Does My Dental Insurance Cover Dental Implants?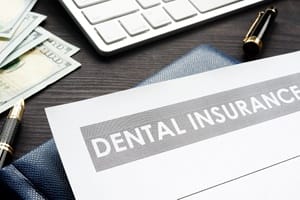 It is becoming quite common for dental insurance companies to provide coverage for dental implants. However, some of them are still behind the times and do not offer coverage. Our team are experts at insurance and will help you navigate your coverage. Even if your policy doesn't cover dental implants themselves, it may reduce your out-of-pocket costs for preliminary treatments or your final restoration.
Making Dental Implants Affordable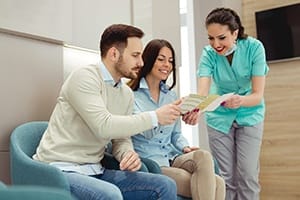 Dr. Singh wants you to be able to afford your new smile! That is why, in addition to helping you deal with insurance, we offer a few provisions that may make implants more accessible for you:
We work with CareCredit, Lending Club, and Lending Point to help patients break up the cost of treatment into manageable monthly payments. Upon credit approval, you could get a single implant and crown for just $167/month!
Smile Savings Program. Our in-house discount plan covers preventive treatment and gives you a 15% discount on most services performed in our practice.
Are you ready to learn more about implants and how you may be able to afford them? Schedule a consultation with Dr. Singh and our team today!
Dental Implant Post-Op Instructions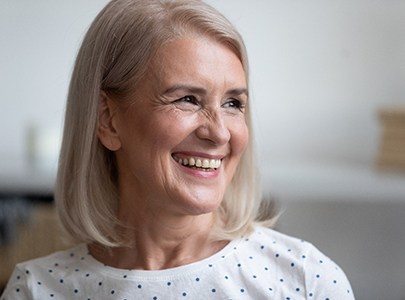 At Cary Dental Rejuvenation, our team can complete the entire dental implant process from start to finish at one convenient, familiar location. Following your oral surgery, we'll provide you with post-op instructions to help you make a speedy, comfortable, and smooth sailing recovery. Below, we'll explain what to expect, which symptoms are normal, and how to properly care for your smile throughout the healing period. If you have any questions and would like to speak directly with a member of our team, contact our office and make an appointment today!
What to Do Directly After Dental Implant Surgery
The dental implant process may sound daunting, but with proper care and maintenance, you'll make a fast recovery and have a beautiful smile to flash in record time! After your procedure, the forming blood clot on your surgical site must remain completely untouched. It needs to stay in place so your gums can heal around the implant properly. To that end, you must avoid:
Spitting (use tissues or swallow your saliva)
Drinking from a straw
Smoking (at least the first day)
Touching the surgical site with your fingers or tongue
Common Side-Effects When Recovering from Dental Implant Placement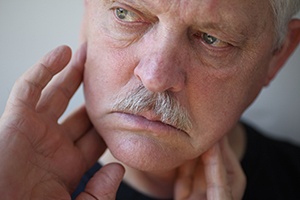 Have you ever had oral surgery? If not, you're probably unsure which symptoms are normal and which ones you should be concerned about during your recovery. Even though the following side effects are common, they should gradually improve over time. That said, here's what you can expect in the days following dental implant placement in Cary:
Intermittent Bleeding – Although this can last for several days, it can be controlled by placing a small amount of pressure on the gauze that's placed on the surgical site.
Swelling – This is very common in the first 72 hours and may last over a week. You can help it go down more quickly by placing a cold compress on the cheek or jaw.
General Discomfort – Any discomfort can be alleviated by taking prescribed or over-the-counter pain medication as directed.
Your Diet After Dental Implant Surgery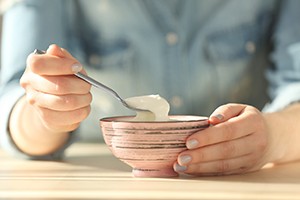 It's a good idea to stick to a soft-food diet for the first few days following your dental implant surgery. Before your procedure, it's strongly recommended that you stock up on foods like:
Mashed potatoes
Yogurt
Pudding
Soup (make sure it's not too hot!)
Scrambled eggs
Pasta
You can return to your usual diet as soon as you feel up for it. However, make sure you continue to exercise caution around certain foods and avoid chewing directly on the implant site.
Post-Op Health & Oral Hygiene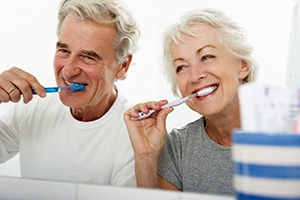 After getting dental implants in Cary, it's incredibly important that you keep your mouth as clean as possible. Doing so will ensure that the titanium posts successfully integrate with the surrounding bone tissue. The day after your oral surgery, you can brush your teeth as you normally would as long as you're extremely careful near the surgical sites. Don't forget to rinse your mouth with warm salt water two to three times a day, ideally after eating. Avoid using any mouthwash that has alcohol in it, such as Scope or Listerine.
What to Do After Your New Teeth Are Attached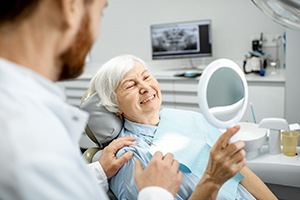 Once you're healed up and the implants have successfully fused with the jawbone, you can return to our office for the final step in the process – the placement of your artificial teeth! After attaching your new restoration (i.e., crown, bridge, denture), you may experience mild sensitivity and discomfort. Luckily, it can easily be managed with pain medication. You'll be ready to make the most out of your beautiful smile that same day!
Dental Implant FAQs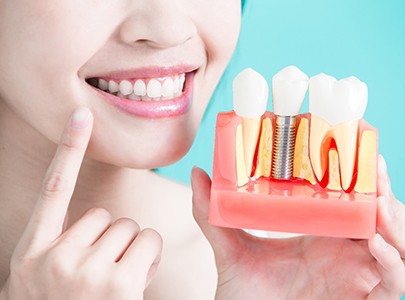 If you're looking to replace your missing teeth with the next best thing, dental implants in Cary are the obvious choice! However, it's likely that you have some questions that need answers before you're ready to commit to a treatment plan. At Cary Dental Rejuvenation, we want you to feel 100% confident in how you choose to rebuild your smile, and we'll be more than happy to answer any and all questions during your consultation. In the meantime, we invite you to look over some of the most common questions we get about dental implants below so you can learn more about them! If you don't see the information you're looking for, we're just a phone call away!
Does It Hurt to Get Dental Implants?
Dental implant surgery may sound daunting at first, but rest assured that you have nothing to fear! Not only does Dr. Singh have advanced specialized training to ensure your implant surgery goes smoothly, but he's outfitted his practice with the latest dental technology. Thanks to equipment like our CT/ Cone Beam Scanner and our digital impression system, placing your dental implant can be precisely planned for maximum comfort. We even offer technology like The Wand™, Dental Vibe®, and Dentapen™ to make administering local anesthetic quick, efficient, and more comfortable than ever before. All in all, a vast majority of our patients are delighted to find that having dental implants placed is quite the pain-free experience!
Am I Too Old or Young to Get Dental Implants?
Dental implants can help practically anyone suffering from tooth loss. We typically recommend that our younger patients wait to get dental implants until their jaws are fully developed, which is around 16 years old for girls and 18 years old for boys. However, there is no upper age limit for dental implants! As long as you are healthy, are free of oral health problems, and have a strong jawbone, you can get dental implants no matter how old you are!
Can I Get Dental Implants If I Smoke?
While it is possible to get dental implants if you smoke, tobacco use dramatically increases your risk of dental implant failure. Smoking hinders your body's natural healing process, which could prevent your dental implant from successfully integrating with your jawbone. It also leaves your mouth much more vulnerable to infection, which can attack the supportive structures that help holding your implant in place, also causing it to fail. You will need to quit smoking two weeks prior to dental implant surgery and continue to refrain for at least a month afterwards. We encourage you to consider getting dental implants as a great opportunity to quit smoking!
Do Dental Implants Feel Natural?
Dental implants mimic natural teeth in virtually every way, making them the most lifelike tooth replacement option available. While other options rely on your remaining teeth and gums to stay in place, a dental implant is rooted into the jawbone just like a natural tooth. This means you won't have to worry about tooth sensitivity, gum irritation or sores, jaw pain, or replacement teeth that feel like they're about to fall out of place. Upon successful integration, your dental implants will feel so much like natural teeth that you may forget they're even there after time!
Maintaining & Caring For Your Dental Implants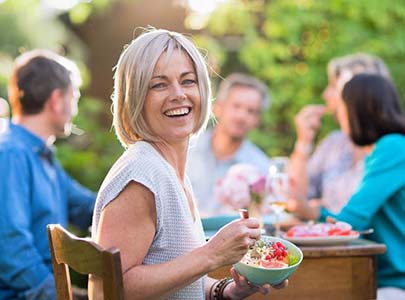 When it comes to dental implant care in Cary, you need to know what it takes to keep your new teeth lasting for decades or even a lifetime. You've made a worthwhile investment in these prosthetics, so why not do everything you can to ensure their lifespan? From eating the right foods and breaking unhealthy habits, to visiting your dentist and keeping up with your oral hygiene routine, these tips and more can give your dental implants the care they need to keep you smiling and confident for years to come.
Making Oral Hygiene a Priority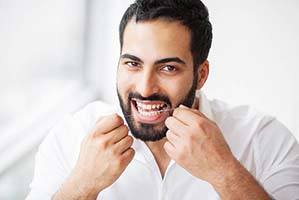 Even with dental implants in Cary, you should make sure your oral hygiene routine is top-notch. Brushing twice a day for two minutes, flossing between meals, and rinsing regularly will eliminate bacteria that can cause gum disease. If allowed to spread, it can weaken the bone and cause your implants to loosen, resulting in implant failure. By keeping a regular oral hygiene regime, you can avoid this problem and instead, feel good about the health of your smile.
Eating a Healthy Diet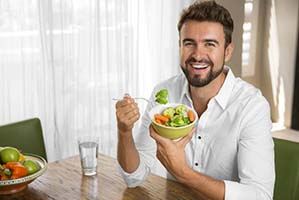 Sugars and starches are fine in moderation, but they shouldn't be staples in your daily diet. Why? Because they cause decay and gum disease to form. Although your dental implants cannot decay, your natural teeth can, and your soft oral tissues can worsen over time. It's better to swap out the sweets for natural sugars found in fruits while also incorporating vegetables, leafy greens, calcium-enriched foods, and lean proteins. Designed to improve oral and overall health, you can minimize your risk for problems that occur in both the mouth and body.
Breaking Bad Habits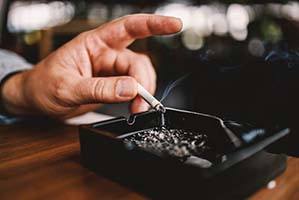 If you like to eat ice, are prone to chewing on pens and pencils, tend to grind your teeth, use your teeth instead of tools to open packages, bite your nails when stressed, or smoke to "take the edge off," it's time to stop. These unhealthy habits can wreak havoc on your dental implants. Damage can lead to additional time and money spent trying to fix your smile. If you want to reduce your risk for chips, cracks, fractures, and even broken teeth, make sure to find ways to curb your habits (i.e., cessation groups and resources, sugarless gum).
Protecting Your Dental Implants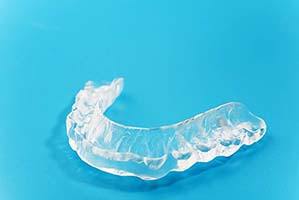 Do you like to play sports? Do you wake with headaches or notice soreness in your jaw? If you answered "yes" to either of these questions, you'll want to talk to your dentist about receiving a customized mouthguard. With dental implants, you can risk potential damage if you don't wear protective mouth gear. While on the track, field, or court, a mouthguard can absorb hits and injuries to the mouth that might otherwise cause serious injury. It can also serve as a cushion between your teeth to keep them from touching while you sleep. In turn, this reduces your chances of damaging your implant restorations and alleviates jaw pain.
Scheduling Regular Dental Checkups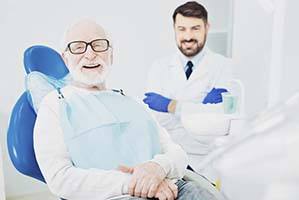 Unless otherwise recommended, you'll need to keep seeing your implant dentist in Cary every six months. These appointments ensure your natural and artificial teeth are in optimal condition, free of any decay, gum disease, oral cancer, and damage. Not only will our team check for problems that might negatively impact any regular teeth, but we'll also look for chips, small cracks, or fractures that will require restoration replacement. It is our goal to help ensure the longevity of your smile.