Emergency Dentist – Cary, NC
Let Us Help You
Save Your Smile
If you have a broken or lost tooth, or if there's pain in your mouth that just doesn't seem to go away, you need to act fast; waiting too long could lead to needing more advanced procedures and, in the worst-case scenario, could cause you to lose teeth. Our emergency dentist in Cary, Dr. Singh, will work quickly to relieve your pain and stop the damage from growing worse. Call us immediately as soon as you notice that something is wrong for dental emergencies in Cary, NC.
Why Choose Cary Dental Rejuvenation for Emergency Dental Care?
Advanced Technology for Fast, Accurate Diagnosis and Effective Treatment
Same-Day Appointments for Emergency Patients
Smile Savings Program & Flexible Financing to Help Make Your Care Affordable
What to Do in a Dental Emergency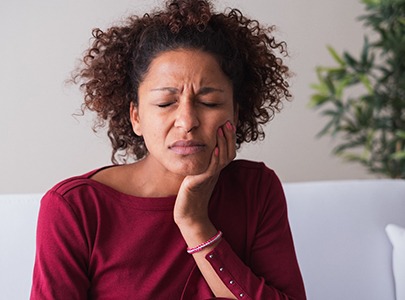 Dental emergencies tend to be alarming and somewhat overwhelming, so it's important that you know what to do before one strikes. If you or a loved one needs urgent dental care, here's what you should do:
Give us a call: Your first step should always be to give us a call as soon as you can. We'll help you assess your situation over the phone and schedule your same-day emergency appointment. We'll also give you personalized first aid instructions to use until you reach our office.
Your emergency exam with Dr. Singh: As soon as you reach us, Dr. Singh will perform a quick examination of your mouth and capture any necessary X-rays.
Choose your treatment options: Next, Dr. Singh will review his findings with you and fully explain all your treatment options before helping you pick the one that works best for you. You'll always know the estimated length and cost of your treatment before we begin.
Get back to enjoying a happy, healthy smile: Once you and Dr. Singh have agreed on a treatment plan, we'll get to work right away. Our main focuses will be to get you out of pain and preserve your natural, healthy teeth. Before you know it, you'll have a happy, healthy smile once again!
The Most Common Dental Emergencies
There are many situations that qualify as a dental emergency. Some are quite obvious, like a broken or knocked-out tooth, which others can be more difficult to detect right away, such as a dental abscess or sensitive teeth. Below, you'll find some of the most common types and signs of dental emergencies we treat here at Cary Dental Rejuvenation. If you notice these or any other worrying symptoms, don't hesitate to call us right away!
Understanding the Cost of Dental Emergencies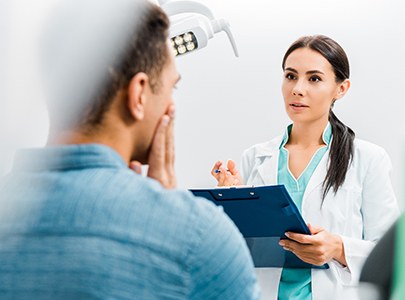 The cost of treating your dental emergency will depend entirely on what type of treatment you need. A patient with a toothache will need a different kind of treatment than one who lost their tooth altogether. When you come see us for your examination, we'll work with you to create a treatment plan and provide a reliable estimate of the cost. Remember that the most important thing is to relieve your pain and restore your oral health; if the issue isn't properly addressed now, it could require a much more costly procedure later. Always put the overall safety of your smile first!
Every Dental Emergency is Different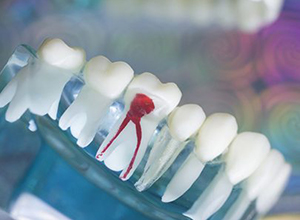 When it comes to the actual emergency exam at our office, the costs are relatively low. During your time here, we will carefully examine your mouth and determine the best treatment option from there. The treatment we recommend will work to not only get you out of discomfort, but ensure your long-term oral health is protected. Until we do this, we can't know what your exact dental costs will be. A few of the most common treatments we perform to treat dental emergencies include:
Root canal therapy
Extractions
Dental crowns
No matter what our office finds, we'll go over our recommended treatment plan with you directly so you know exactly what to expect.
Does Dental Insurance Cover Dental Emergencies?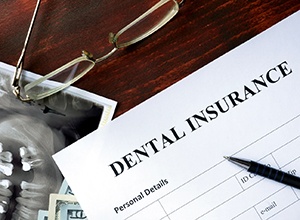 In most dental plans, there is some level of coverage designated specifically for emergency dental visits. For example, you may find in your plan that you are allotted one emergency exam per year. In other cases, you may receive coverage for root canal therapy and tooth extractions, even if it's only partial (between 80% and 50% in most cases.) Just make sure to confirm this with your insurance company ahead of time. Alternatively, our experienced team can review the details of your policy with you to help you understand what is covered and how to maximize your benefits.
Other Options for Making Dental Emergencies Affordable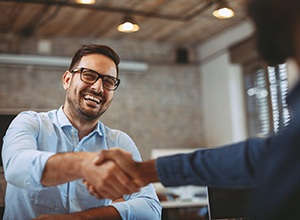 If you do not currently have dental insurance, there are other ways to make your emergency dentistry more affordable as well. For example, our office provides an in-house membership plan that offers discounts on all other services performed at Cary Dental Rejuvenation. If you're looking for a monthly financing option with low-to-zero interest rates that caters to people dedicated to strict monthly budgets, we recommend looking into CareCredit, Lending Club, and Lending Point.
No matter what dental emergency you're experiencing, you can expect our team to be ready to help you navigate your costs, so don't hesitate to call for help if needed!
Taking Care of Your Smile Can Save Your Money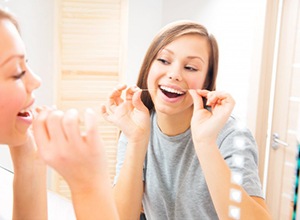 Dental emergencies can occur when you least expect them, making them unavoidable in some cases. However, this is not typically how they occur. More often than not, they are caused by unremoved plaque and tartar that broke down the tooth and exposed the inner area where the pulp and nerve are located. With regular at-home oral hygiene, you can not only save yourself a lot of discomfort, but avoid the need for expensive restorative dentistry later as well.
Keep in mind that you should never put off treatment for a damaged tooth or dental infection if one appears. The longer you do, the more likely you'll need to spend more on treating when you eventually have no choice but to visit (most likely because the discomfort will become too unbearable to ignore.) It could also mean the difference between needing a root canal therapy vs. a tooth extraction.
How to Prevent Dental Emergencies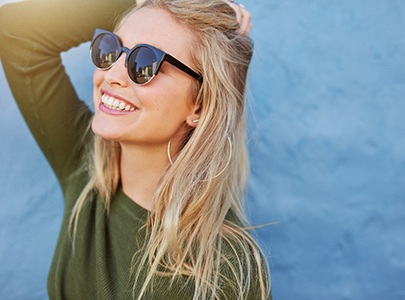 Millions of people need urgent dental care every year. While some emergencies are unavoidable accidents or injuries, many can be avoided. In fact, the American Dental Association reports that the majority of patients who seek emergency dental treatments suffer from dental decay that could have easily been prevented! From toothaches to knocked-out teeth, there are certain steps you can take to dramatically lower the risk to your smile on a day-to-day basis. Read on to learn the five most important things you should do to prevent dental emergencies in Cary.
Visit Your Dentist Regularly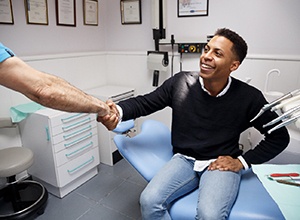 Unfortunately, you could be headed for a dental emergency and not even know it! Cavities, cracks, and infections in the teeth can all develop and worsen without you seeing or feeling them. That is, until they cause a dental emergency! That's why it's so important to come see us for routine dental checkups every six months. We'll be able to spot and stop any minor issues before they advance into serious problems, and we'll give you the personalized preventive care to help you keep dental emergencies at bay in the first place.
Maintain Good Oral Hygiene Habits at Home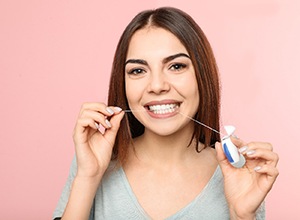 Between appointments, one of the most effective ways to keep your smile safe is to practice great oral hygiene. Infrequent brushing or neglecting your flossing will allow plaque, tartar, and bacteria to build up on your teeth and gums. Over time, these particles will weaken your enamel and infect your gum tissue, which can quickly turn into a dental emergency. To keep this from happening, make sure to brush for two minutes twice a day, floss daily, and rinse with mouthwash regularly.
Be Careful With Your Diet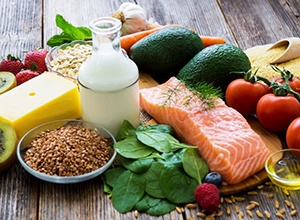 You already know that eating too many candies can give you a toothache. However, sugary treats aren't the only thing you need to watch out for. Overindulging in sticky sweets, hard foods, and acidic beverages dramatically increases your risk of a wide variety of dental emergencies, including dental abscesses and cracked teeth. Instead, choose to eat more foods that are high in fiber, calcium, and vitamin C to naturally (and deliciously) keep your teeth healthy and strong.
Wear a Mouthguard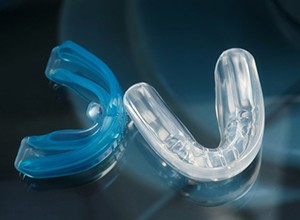 Tooth enamel is the hardest material in the human body. However, a sudden impact or prolonged exposure to pressure can cause it to break. If you play a contact sport where you could potentially take a blow to the face, talk to us about getting a custom-made sports mouthguard. Similarly, if you have bruxism or grind your teeth in your sleep, we can protect your smile from the excess stress with a personalized nightguard.
Use Tools, Not Teeth to Open Packaging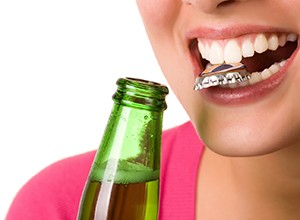 If you're feeling lazy, excited, or rushed, you may be tempted to use your teeth as tools. Maybe you use them to hold an extra bag of groceries, open that package that just came in the mail, or take the cap off of a pen. While these may save you a moment or two, they could easily cost you more time and money on your way to see us with a chipped or cracked tooth! You should never use your teeth on anything other than food. Always keep the right tools handy so you're not tempted to put your smile at risk!
Dental Emergency FAQ's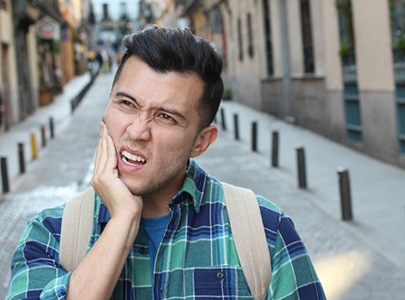 If you're searching for an emergency dentist in Cary who can quickly treat your injury and offer personalized care, Dr. Singh and the team at Cary Dental Rejuvenation are here to help. We know it can take time to find the right individual who can address various types of dental accidents, and we also understand you probably have many questions about how we can help you. To provide as many answers as possible, we've compiled a list of frequently asked questions pertaining to dental emergencies. After reviewing the following information, please feel free to contact us with any additional inquires you might have.
When Should I Visit the ER for a Dental Emergency?
There are only a few scenarios that warrant a visit to the ER instead of our practice for a dental emergency. These include:
Facial trauma (i.e. broken or fractured jawbone)
Increased swelling of the neck, face, or jaw that can hinder your ability to breathe and/or swallow
Continuous bleeding from the mouth that does not cease after 10 minutes
Otherwise, Dr. Singh and his team are fully trained and equipped to handle all types of dental emergencies, and they can give you the personalized care you need with start-to-finish treatment.
Do I Still Need to Visit the Dentist If the Pain Goes Away?
Yes! Pain is not always a symptom of a serious problem, but if it is and dissipates after a day or two, it is advisable that you still contact us. Just because the pain goes away does not mean there is not an underlying problem. Although not always the case, Dr. Singh can look beneath the surface of your smile with dental X-rays to determine if decay or damage has occurred underneath the gum line. By choosing to seek help, you will put yourself in a much better position should there be a problem than if you were to ignore the lack of pain and forgo possible treatment.
Will I Need a Root Canal for My Toothache?
If you have a severe toothache that proves to be infected and has reached the inner layer of your tooth (the pulp), Dr. Singh will evaluate to determine if the tooth is savable or not. If so, a root canal will need to be performed to remove the infected pulp and cover the weakened tooth with a dental crown. This will help to restore the natural tooth structure and protect it from reinfection. However, if the tooth is unable to be saved, it will be necessary for Dr. Singh and his team to extract the tooth.
Should I Avoid Emergency Dental Care If I Don't Have Dental Insurance?
It is never advisable to avoid dental care of any kind, as this can lead to serious oral and overall health problems. When it comes to a dental emergency like a chipped or knocked-out tooth or even an abscess, it is always best to seek immediate treatment as soon as possible. If you are uninsured, our team will be happy to assist in identifying other ways in which you can pay for your care, such as financing. Our Smile Savings Plan can also help you and your family receive the treatment you need at an affordable price.
Will a Toothache Go Away With No Treatment?
Contrary to common belief, an occasional toothache isn't normal. It's a sign that you need to contact your emergency dentist in Cary. A toothache is a symptom of an underlying problem, like decay or an infection. It's unlikely your toothache will go away with no treatment. If it does, that's not always good news. Instead, it can mean that your tooth has died and will need to be removed. It's best to contact your dentist right away. We'll get to the source of your discomfort to provide the quick care you need to stop your pain and save your tooth.
Will a Chipped Tooth Heal?
Your teeth are protected by the hardest substance in your body. Your enamel is stronger than some metals, but it can't regenerate. Once you've lost it, it's gone for good. As a result, a chipped tooth will not heal. At most, it may remineralize, but it will not grow back. Without any treatment, your tooth can be vulnerable to sensitivity, infections, and additional damage.
Do I Need to See a Dentist If My Chipped Tooth Doesn't Hurt?
Not all chipped teeth hurt, but that doesn't mean you don't need to see an emergency dentist. You can be at risk of losing your tooth if you delay treatment. If your tooth doesn't hurt, you can wait a day or two for an appointment, but don't put off seeing a dentist until your next cleaning and checkup. Your dentist will examine your tooth to provide the appropriate treatment you need to protect it from any additional complications.
Can I Use My Dental Insurance for Emergency Dentistry?
Most dental insurance plans offer coverage for emergency dentistry. Besides covering your consultation and any diagnostic services, you can use your benefits to lower the amount you will pay for common restorative procedures. Depending on your treatment plan, your insurance can pay 50% to 80% of the expense after meeting your annual deductible until reaching your yearly limit. A member of our office will work on your behalf with your dental insurance to maximize your coverage to lower your out-of-pocket responsibility. They will also take the time to explain your payment options for any remaining balance, like monthly payments through CareCredit.
Is a Broken Denture a Dental Emergency?
A broken denture is a dental emergency in Cary. You rely on your dentures, so you can't go without your teeth. It's best to stop wearing your denture to avoid additional damage or injuries to your soft tissues. Never repair your denture on your own. Glue and adhesive can contain toxic chemicals that can harm your health. They can also cause allergic reactions. Instead, it's better to turn to a professional. We'll get you into the office and provide the necessary repair or replacement. If possible, wear an old denture in the meantime.