Replace Missing Teeth – Cary, NC
Beautiful and Durable Implants,
Bridges, and Dentures
Replacing your lost teeth is vital for letting you maintain a functional, healthy mouth. That's why it's important to find an expert who can provide you with restorations that are both beautiful and are precisely designed to work in harmony with the rest of your natural teeth. Dr. Singh can combine modern dental technology with his own extensive skills and training to create a dazzling new smile for you; contact Cary Dental Rejuvenation right away to learn more about the best way to fill in that empty space and replace missing teeth in Cary, NC.
Why Choose Cary Dental Rejuvenation to Replace Missing Teeth?
Computer-Guided
Dental Implant
Placement
Attractive Prosthetic Teeth That Let You Eat and Speak Normally
A Dentist That
Treats You as
an Individual
What Happens if I Do Nothing?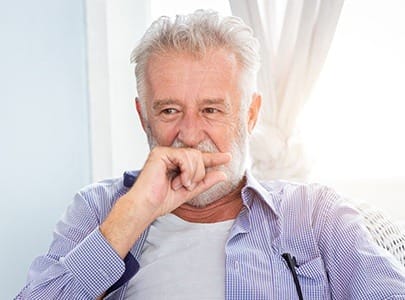 Your teeth are made to work as a complete set. When even one tooth is missing, the forces of your bite are not distributed correctly, and it could lead to trouble chewing. Other potential side effects of missing teeth include:
Chronic headaches
A crooked smile (as a result of your remaining teeth drifting into the gap)
Bone loss and gum recession
Gum disease and tooth decay due to bacteria growing in the pockets formed by gum recession
Dental Bridges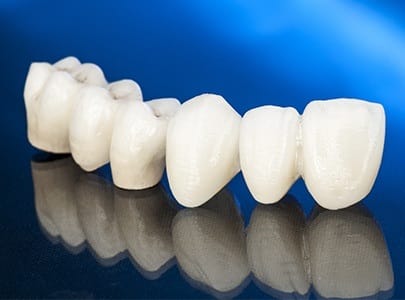 A bridge can fill in a single gap, but it can also be used to replace multiple teeth in a row. The restoration is made by attaching two dental crowns to either side of one or more prosthetic teeth. The crowns are then placed on top of healthy teeth on either side of the empty space. Bridges are typically made from a ceramic material that can be shaded and designed to fit in with your smile as naturally as possible.
Learn More About Dental Bridges
Dentures & Partial Dentures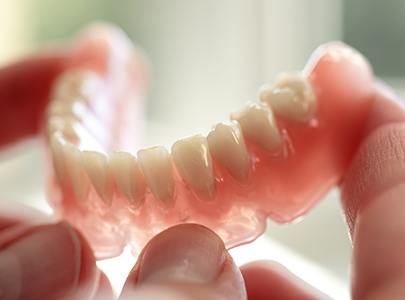 Full dentures are used when most or all the teeth in your upper or lower jaw are missing while partial dentures are customized so that they can fill in multiple gaps. Both kinds of dentures are normally made of acrylic and consist of a gum-colored base that supports several prosthetic teeth. However, full dentures are held on the gums through suction (or with an adhesive) while partial dentures are secured by a metal clasp.
Learn More About Dentures & Partials
Dental Implants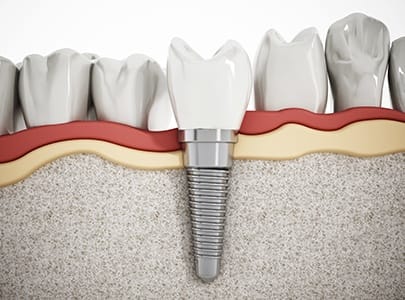 Bridges and dentures are effective, but they also need to be replaced periodically; if you're looking for a more permanent solution for missing teeth, dental implants are typically the ideal choice. A titanium post is fused with your jawbone to act as support for your false tooth or teeth. This is the only type of restoration that can help prevent bone loss, and they can last for decades at a time with good oral hygiene and regular checkups.