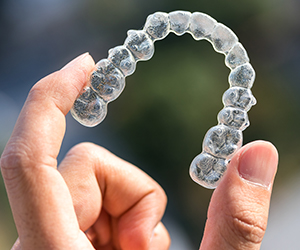 Your smile has a great impact on your self-esteem. So everybody wants a beautiful and confident smile. But whenever you think about getting beautiful smile through dental braces, you get worried about the metal brackets and wires attached to them and their aesthetic impact. To make you free from all these worries and hassles, Invisalign treatment is the best and state-of-art treatment available which is as well virtually invisible to another person's eye.
What is Invisalign and how does it work?
Invisalign treatment makes use of aligners made of thermoplastic material which is virtually invisible. These aligners are custom-made and gradually shift your teeth into the sequence, planned out by your dentist or orthodontist. A series of aligners is supplied to you during the treatment. You are made to use a new set of aligners approximately after every two to three weeks. Not all the teeth are moved at a time but only a certain teeth are shifted during each stage. The time your treatment will take is determined by the severity of your condition and by your dentist as well.
How often should I wear my aligners?
You must wear your aligners 20 to 22 hours a day and remove them for eating, brushing and flossing. There are no restrictions regarding eating or drinking while you are undergoing treatment. As aligners are removable and you are only required to remove them whenever you eat or drink.
What are the precautions I must take while undergoing the treatment?
You must observe the following precautions for the effective treatment:
Brush your teeth thoroughly after every meal and before re-inserting the aligners.
Dentist refrain you from smoking as it can discolor the aligners.
Clean your teeth properly after consuming every sugary beverage.
Remove your aligners before chewing gum as it will stick to the aligners
Do not use hot water at any time on your aligners as this may lead to irreparable warping of plastic.
Use lukewarm water or Invisalign's Cleaning System with cleaning crystals to clean your aligners
What are benefits of Invisalign over traditional metal braces?
Invisalign is a state -of -art treatment for straightening your teeth and getting you a bright and beautiful smile. It has various advantages as compared to that of metal braces:
Invisalign aligners are invisible as they are made of BPA-free invisible plastic as compared to the metal brackets and wires of the metal braces
Invisalign's aligner trays are removable as compared to fixed metal braces
You can brush and floss normally thus maintaining a good oral hygiene
Aligners do not cause any irritation to your cheeks or gums as they are made up of soft thermo-plastic.
Effectively and painlessly treats a wide variety of issues including crowding, spacing, cross bite, overbite and under bite.
Contact Dr. Bikram Singh DMD for the leading-edge and state-of-art treatment of your dental problems. We use minimally invasive and patient-proven corrective methods to treat your dental problems and as well educate you to check the recurrence of those problems.